The Frog Castle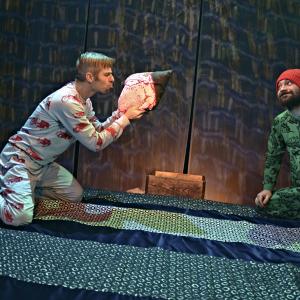 A dreamy adventure in the kingdom of frogs and salamanders
One day, Štěpán Marzipan was walking around a lake when – suddenly - he met Umpin the gnome. In fact - as he later realized - it was not during the day, but at night. And why he walked around the lake only in his pajamas was not clear to him either. So, in the end, he wasn't at all surprised that the gnome had invited him over for fresh pancakes with strawberry jam. It was necessary to empty the jar of jam so they could catch tadpoles in it. Only tadpoles can turn into frogs and only you can turn the frog into a prince. Just kiss her.
The Frog Castle was written in 1988 by the Norwegian writer and philosopher Jostein Gaarder as his second children's book. Other books by this world-famous author include Sophie's World, The Orange Girl, The Solitaire Mystery and The Magic Calendar.
The dream-like fairy-tale adventure of little Štěpán and Umpin the gnome is at first sight a fanciful and exciting expedition to the frog kingdom, threatened by a conspiracy of vicious salamanders. But on the second level, so typical for Gaarder, he also deals in a non-violent way with the themes of the child's first encounter with death in the family, the search for his own identity or the understanding of important life values.
Technical requirements:
Stage: width 6 m, depth 10 m, height 4 m
bars in all the depth of stage
Input power: 380/220 V, protection 16/32 A
Photos: Roman Dobeš
Photos in print quality for download: